Exclusive ThemesBuddy Offer
Up to off SiteBunker hosting and free WordPress theme included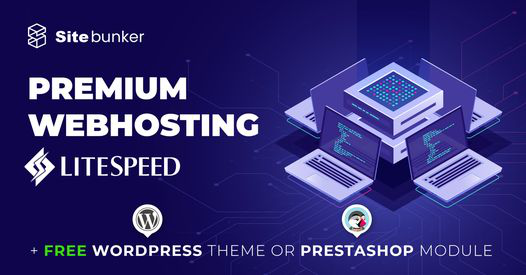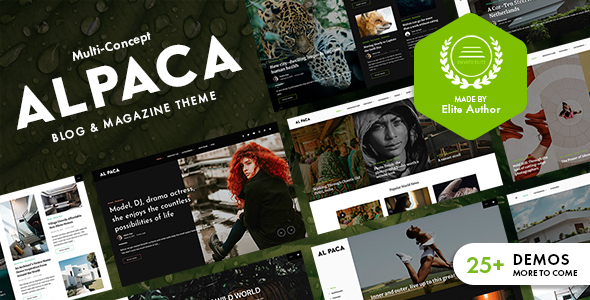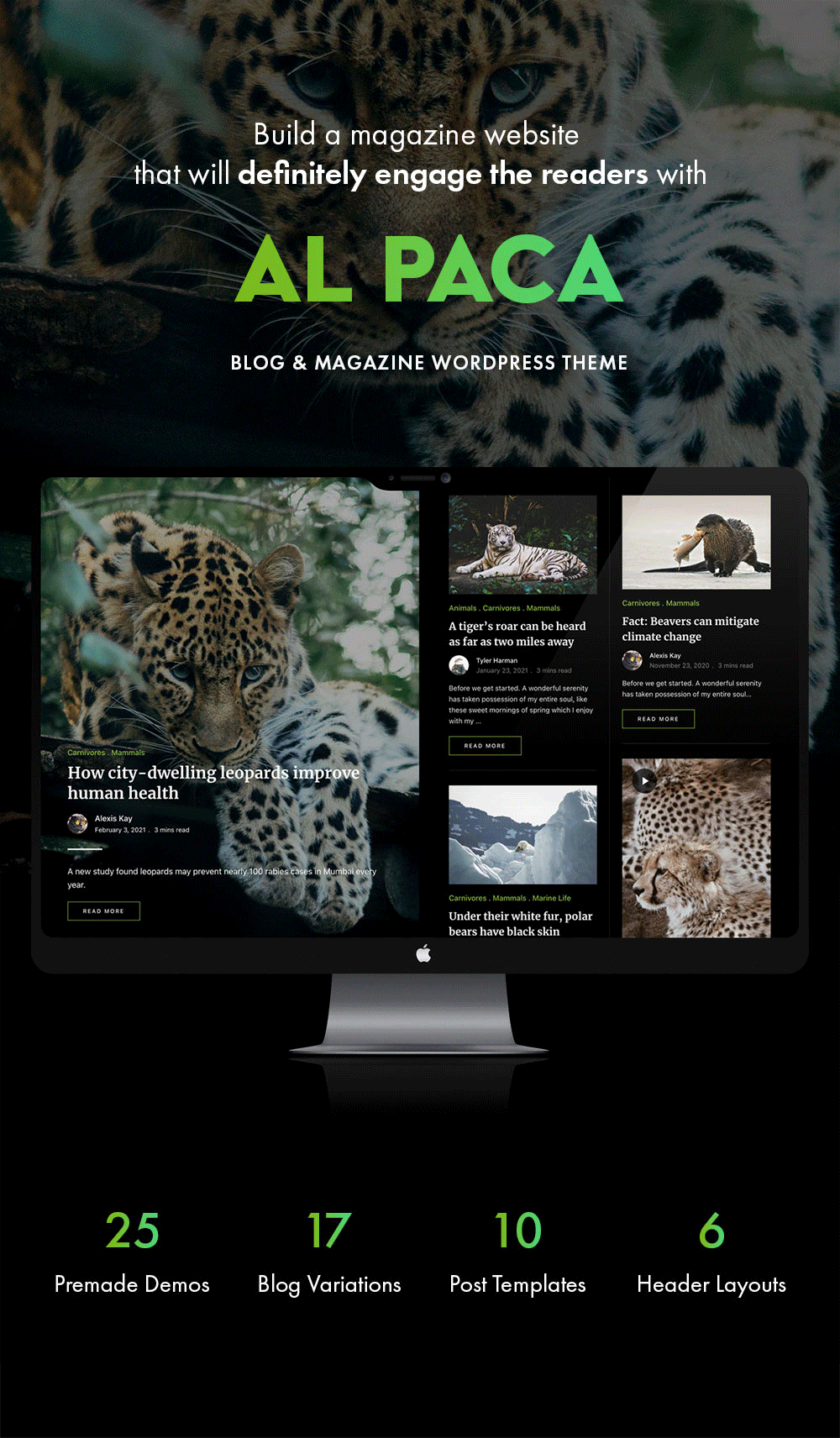 Alpaca – Multi-concept Blog & Magazine WordPress Theme
Alpaca is a WordPress theme designed for professional blog & magazine websites. Modern and interesting design, easy to use and maintain. It has well-structured layouts, straight lines and right angles and other sleek and bold design elements, which is perfect fit for blog & magazine websites with rational and serious content, realistic style, and full of modern sense.
Alpaca provides rich magazine styles and layouts. The theme is compatible with popular plugins such as WooCommerce, MailChimp for WordPress, Contact Form 7, and more. With WordPress customizer, you can easily change colors, fonts, and more theme appearance with instant preview.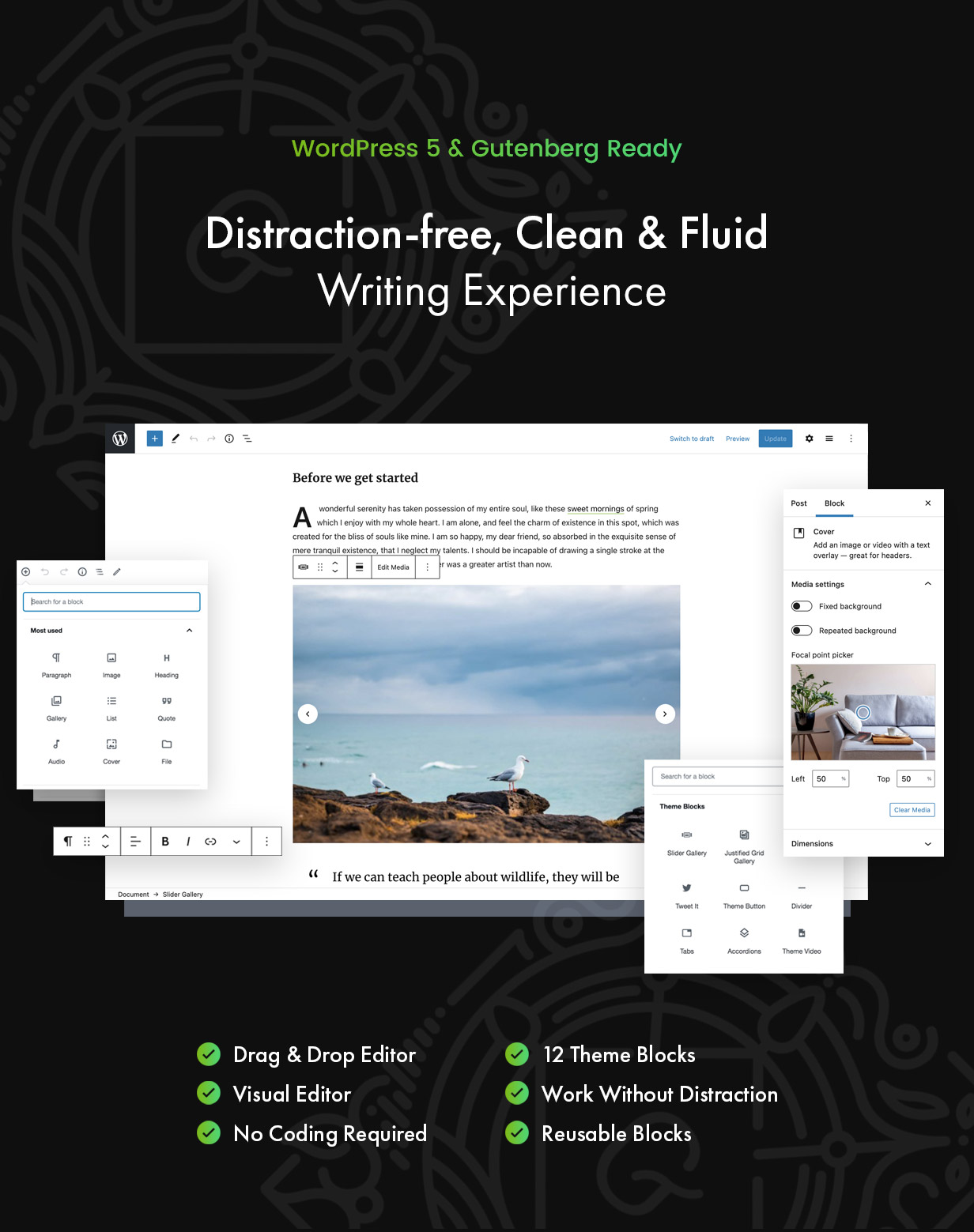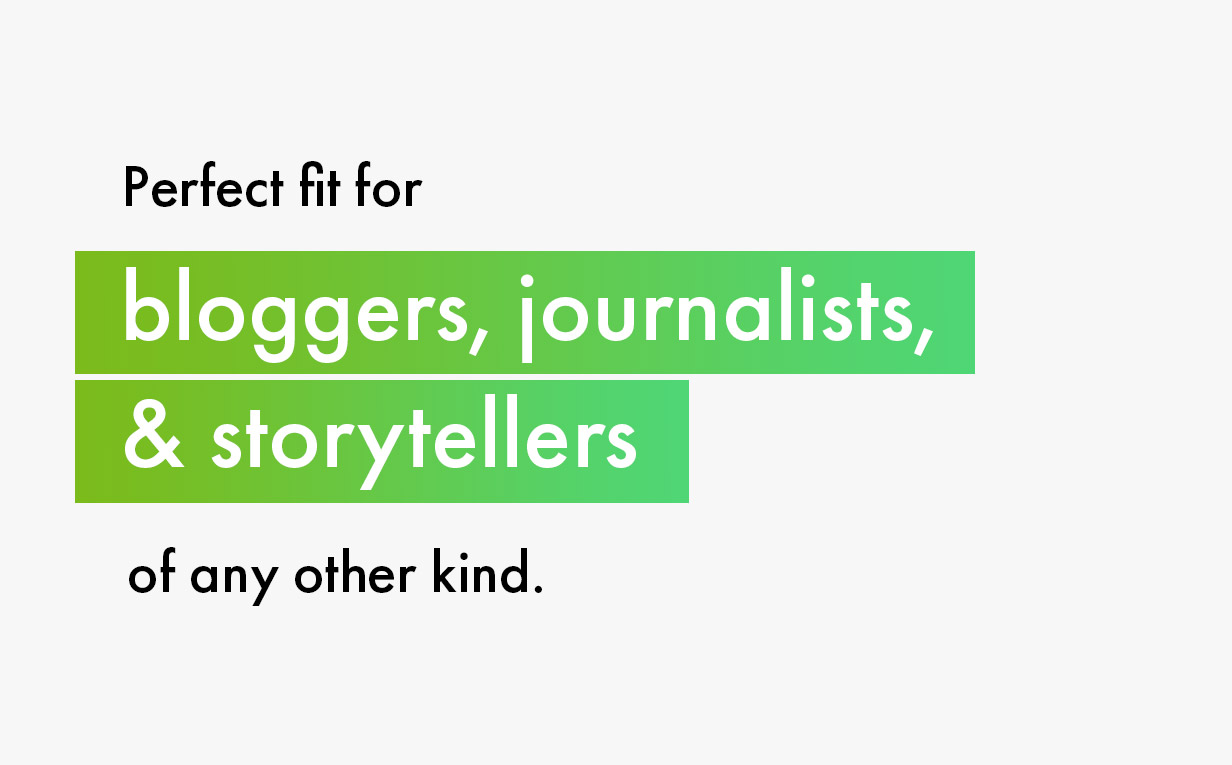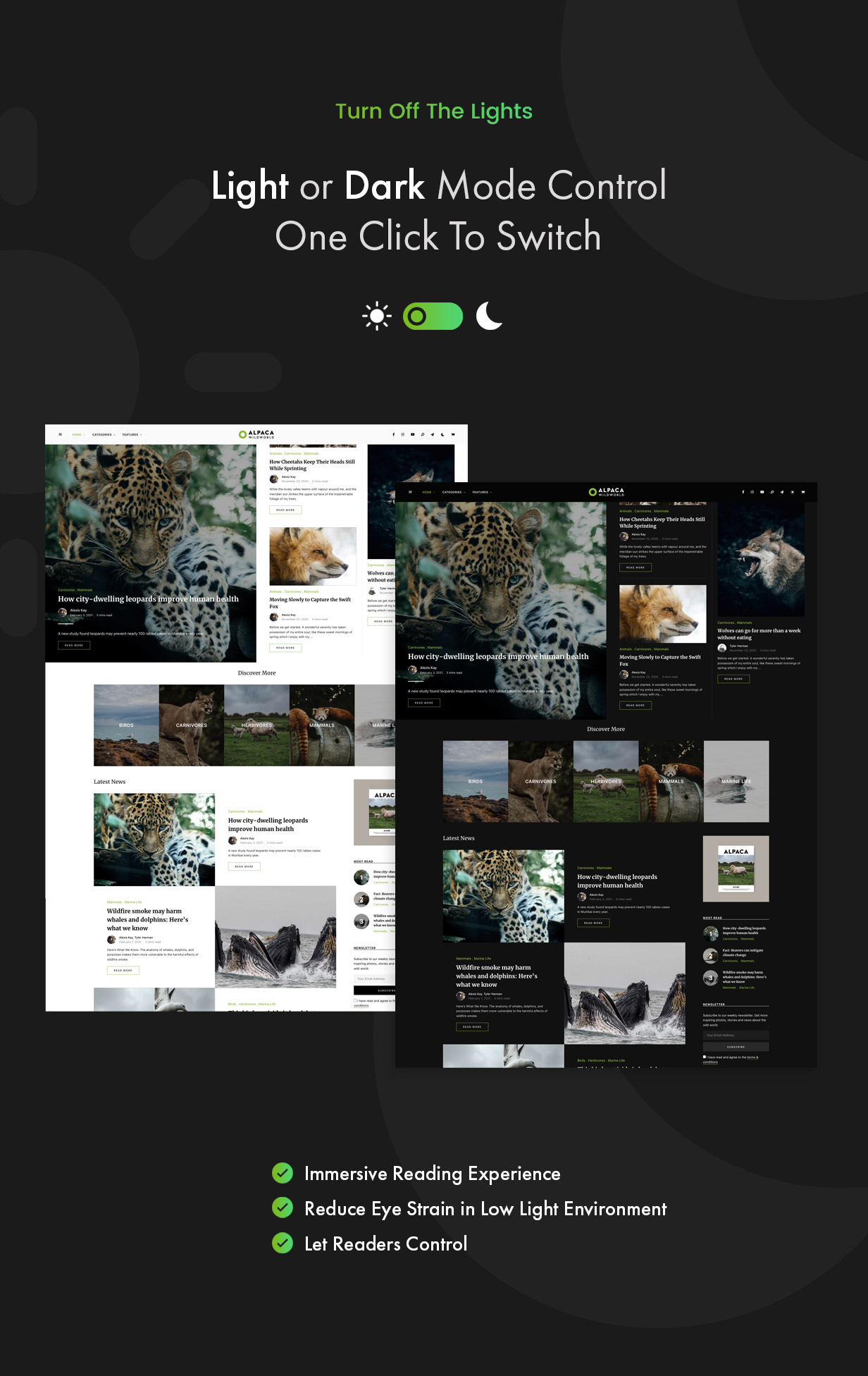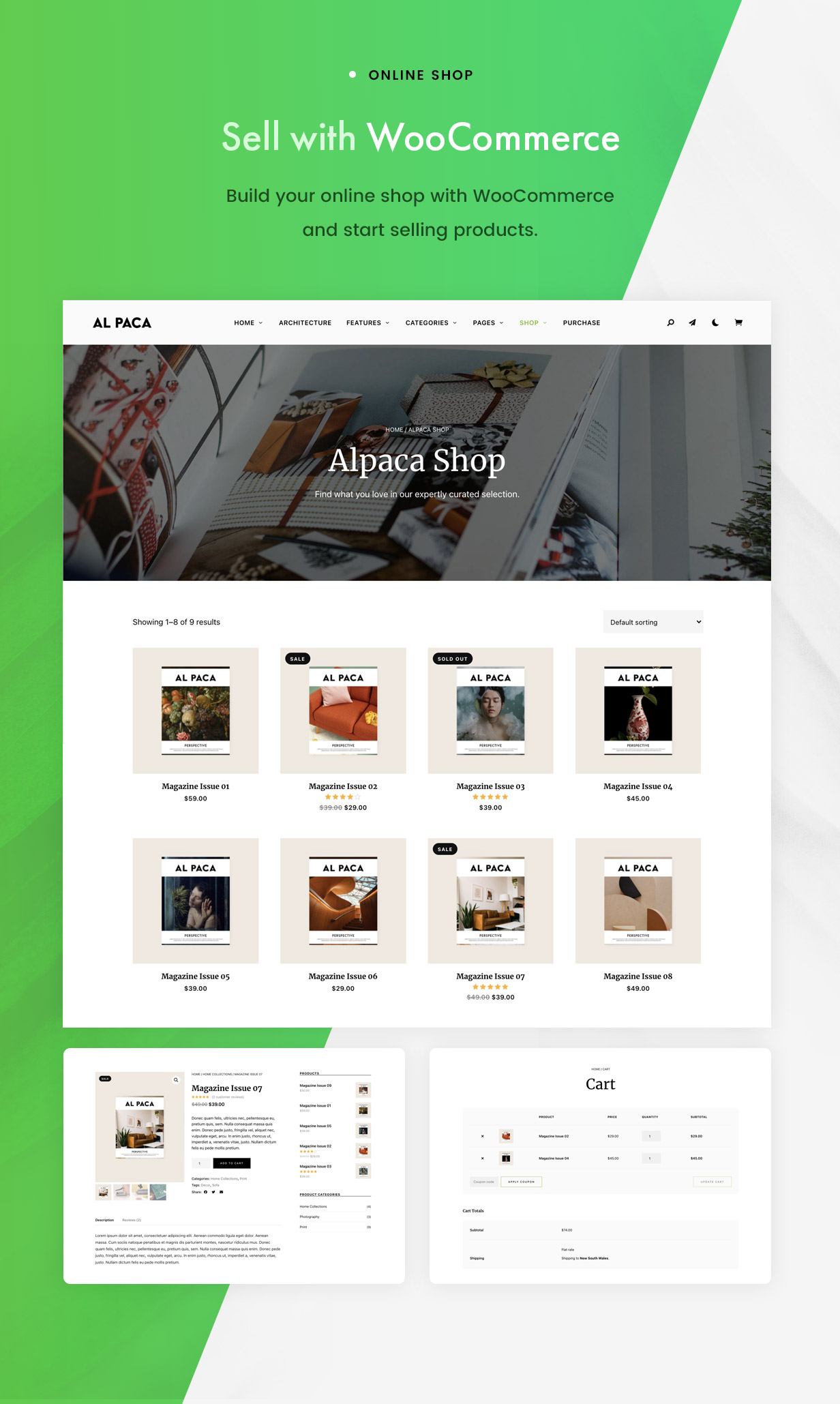 Why We Made This
We believe in the power of reading. In order to help you record your thoughts, share knowledge and value, and high-quality reading experience, we deliver this answer – the Alpaca theme: a functional magazine WordPress theme with a modern and unique design.
Serve Your Readers with High-quality Reading Experience
Content is king. But how to make readers have a better reading experience is an important issue that content creators in the Internet age must consider. A good presentation allow reader to devote more attention to the content, and the content is easier to understand and accept.
Turn Off the Lights
Dark mode is a trend in today's web design, which can help create an immersive reading experience, and reduce eye strain in low-light environments or when reading for a long time.
Alpaca includes the toggle to switch the color mode with one click. Provide your readers with the option to turn the lights on or off so that they can control their experience and cater to those who may have different visual impairments.
The easier on the eyes, the longer your readers will stay on the site.
Estimated Reading Time
Adding the estimated reading time at the beginning of an article significantly improves engagement with your readers.
Many readers are very time-pressed. When readers see a headline that piques their interest, and know in advance that it only takes a couple of minutes for read, they will be more likely to click the link and read it.
Reading Progress Bar
A reading progress bar adds user interface enhancements, which is a great way to encourage readers to scroll through the entire page. It motivates readers to complete the article they are reading.
Display Article Update Date
If you often update old stories to add new information or corrections, if you only display the published date of articles, your readers would miss those updates.
And, Google factors publish date into its ranking algorithm. Of course, the older a post is, the fewer clicks you'll get.
The solution is simple – display last update time.
Readers will trust the updated content more, and the search engines will update the records the next time they crawl your site. This means better rankings, more clicks, and more engagement.
System Font Stack vs Web Fonts
We have carefully selected fonts and font sizes suitable for reading on the screen. Alpaca uses system font stack for content by default. Defaulting to the system font of a particular operating system can boost performance because the browser doesn't have to download any font files, it's using one it already had. System font stack is being used widely on modern websites, including Medium and WordPress.
Fast: No network request, do not require any download time, no flash of an incorrect font.
Have lots of styles and broad language covered.
Feel more native when using system font faces.
Would like to use a web font? No problem. Our theme includes 900+ Google Fonts. You can simply pick your favourite Google Font from a dropdown list.
Delight Your Readers With Subtle Animations
Subtle animations add personality and empathy into an otherwise dull interface. They make experience fun, delightful and memorable. They can also help you establish contact with readers on a personal and emotional level.
Alpaca allows content to fade in gracefully on load, and also provides a nice transition on hover (and more). These animations are used just right and will not cause distraction or interrupt reading.
25 Pre Designed Demos
Alpaca provides 25 well-designed pre-made demos for different types of modern magazine. You can select a demo and import it to your website with simple click to get started quickly.
Rich Magazine Website Style
We offer a variety of styles to facilitate users to create a rich layout magazine website:
17 Blog Variations
10 Single Post Templates
6 Site Header layouts
Smart Sticky Site Header
Sticky Sidebar
Support mega menu to display posts or categories with thumbnails in the dropdown menu
And more…
The theme also provides a special split layout, for blog archives and single post. You can choose different layouts to mix, to create a rich, varied and dynamic interface.
Instant Preview
Our theme offers loads of options for changing the website appearance, users can further adjust the layout and style according to their needs. The site appearance options are located in the WordPress Customizer, which is the native way for WordPress to change the site appearance. When customizing, the interface is divided into two parts, with the editing area on the left and the preview area on the right. Operations in the editing area will be rendered to the preview area in real time for easy viewing of the final version.
Distraction-free, Clean & Fluid Writing Experience
Alpaca is fully optimised for WordPress core editor Gutenberg. Gutenberg has been continuously updated and improved for several years. It is an editor designed from the perspective of the writer, which is easy to use, with clean and beautiful layout, distraction-free writing experience.
In addition to text and images, users can add diversified web page elements to the content to generate highly expressive documents. Gutenberg can help you create rich content while keeping the web page structure clear and simple, delivering a more lightweight website.
Promotion & Advertising
Monetize your magazine website with Alpaca. You can insert advertisement (custom image with link or Google AdSense scripts) into different places across the website. Wanna promote your products or events? Just use our built-in home widgets: Call To Action and Featured Boxes.
Sell on Your Website
Alpaca is compatible with WooCommerce. Build your own online shop and start selling now.
Boost Email Opt Ins & Grow Your Email List
Your email list is one of the most valuable assets for your business. Build relationships with your readers.
Alpaca integrates with MailChimp, and provides the customizable pop-up newsletter sign up form feature, in addition to providing multiple locations for display the newsletter sign up form.
Optimized for Lightweight and Performance
The technologies we use to optimize website performance:
Adaptive Image
Adaptive image detects your visitor's screen size and automatically delivers device appropriate re-scaled versions of images. This is to avoid using large images on smaller devices, causing slow loading and costing unnecessary bandwidth and money.
Lazy Loading
Lazy loading is a technique that defers loading of off-screen resources at page load time. Instead, these off-screen resources are loaded at the moment of need.
Lazy loading images and videos reduces initial page load time, initial page weight, and system resource usage, all of which have positive impacts on performance.
Progressive Image Loading
You may have seen this loading effect on the popular publishing platform Medium.com, which loads lightweight placeholder images at page load, and replaces them with lazily-loaded images as they are scrolled into the viewport.
Compatible with popular performance plugins
In order to further optimize website performance, you need to use optimization plugins. Our theme is compatible with popular WordPress optimization plugins, such as W3 Total Cache, Smush, etc.
Optimized for SEO
The theme is coded by following the best practices of web technology. We strictly follow WordPress Coding Standards to ensure your website will have a good structure.
Compatible with Yoast SEO
Support displaying Yoast SEO breadcrumbs. Breadcrumbs are a way to help your readers better navigate your site and its structure. In addition, they can appear on Google and provide a better user experience.
Translation Ready
Alpaca is translation ready. The theme includes a .pot file that allows you to easily translate all of your content into different languages – every single element from the titles and content, to forms, buttons, etc. You can use Poedit or Loco Translate.
Bilingual & Multilingual
We live in a multilingual world, so offering your website in multiple language is a great way to make it more user-friendly and connect with new audiences. Alpaca is compatible with the 2 most popular multilingual WordPress plugins: Polylang & WPML, so you can easily create your multilingual site.
Regular Updates
Created and maintained by active Elite author. Update regularly of continuously improve our products. When an update is available, you can update the theme directly from your WordPress dashboard with simple clicks. No hassle to download and upload manually.
Full Feature List
One-click import of demo
Flexible theme options to create different layouts and styles.
Easily customize the theme and instant previews with Customizer.
10 Home Widgets to create your own unique homepage. Each home widgets contains many options for content, layout and appearance.
Post reading time & Reading progress bar.
Multiple Posts Layouts to create diversity.
Engage with readers by displaying more related posts after each post.
Fully responsive design, and retina ready. Sharp and beautiful on any device.
6 site header layouts with color choices. Supports mega menu (displays latest posts with thumbnails in the drop down menu).
Light & Dark color schemes. Custom accent color.
Color switcher.
Unlimited colors for most elements.
Smart sticky site header.
Standard pagination, Load More pagination, Infinite Scroll pagination.
Options to hide or show post meta.
10 Single Post Templates.
Supported post format: Standard, Gallery, Video, Audio.
Show views count & like count for each post.
Sticky sidebar while scrolling the page. Show or hide sidebar on each page/post.
Options to customize each type of archive pages: Category / Tag / Author / Date Based.
6 custom widgets to add additional content and features to widget areas.
Justified gallery and slider gallery in page/post content.
Support for multiple advertizing placement. Google AdSense ready.
900 + Google Fonts included.
Fullwidth Instagram Feed in site footer.
Compatible with WooCommerce.
Compatible with Contact Form 7.
Compatible with MailChimp for WordPress. Get more email subscribers with well-styled newsletter signup form.
RTL languages support.
Built with HTML5 & CSS3. SCSS files included
SEO friendly. Compatible with Yoast SEO.
Translation ready. .pot file included.
Compatible with WPML and Polylang
Child theme included.
Detailed online documentation.
Pre-sale Questions
If you are not sure whether the theme has a specific feature you need, please check our Online Documentation, browse demos, read item description on this page. If you cannot find an answer, please leave a comment.
Need Our Support?
Please feel free to contact us if you encounter any issue related to the theme. To speed along the support request, please follow this guide.
Credits
Images used in the demo sites are not included in the download package. You can find them on unsplash.com. When importing a demo, images will be replaced with image placeholders.
WordPress.org & WordPress.com
For any theme on ThemeForest, you need a self-hosted WordPress website (WordPress.org) to upload and install the theme. If you use wordpress.com, Business Plan is the only plan that WordPress.com allows you to upload a WordPress theme or plugin.
Changelog
Please Note: After updating, please clear you website cache if you use any cache or performance optimization plugin, and also clear the browser's cache, or try to access the website with another browser that has not cached the website.
Version 1.7.0 – November 13, 2022

* Improved: Custom Widget - Alpaca Posts - Removed the limit on the number of posts displayed
* Fixed: Theme's built-in blocks not rendering correctly in the Gutenberg editor for WP 6.1
* Fixed: Minor CSS issues in the Gutenberg editor for WP 6.1
* Fixed: Compatibility issue with Hummingbird
* Fixed: Other minor CSS issues on the front-end
* Updated: Required Plugin Alpaca Extension updated to v1.7

Version 1.6.0 – February 12, 2022

* Fixed: Conflict with Smash Balloon Instagram Feed (v6.0.1) update
* Fixed: Customizer style issue in WordPress 5.9 that prevented home widgets from moving
* Fixed: Gutenberg Editor style issues in WordPress 5.9
* Fixed: Empty div in Custom Widget - Posts
* Fixed: Incorrect author information displayed in the Author Archive page header in some cases
* Updated: Google Fonts List 
* Updated: Required Plugin Alpaca Extension updated to v1.6

Version 1.5.0 – August 19, 2021

* Fixed: Compatibility issue with WooCommerce version 5.6.0 (WooCommerce v5.6.0 changed a file name, resulting in a logic error in loading stylesheets)
* Fixed: Custom Widget - Alpaca Posts - issue of calculating reading time by character
* Fixed: Sticky Sidebar position issue when using Google Adsense
* Fixed: Google AdSense code cannot be converted correctly
* Fixed: Minor CSS Issues
* Updated: Required Plugin Alpaca Extension updated to v1.5

Version 1.4.0 – May 30, 2021

* Added: New Demos
* Added: Support displaying Yoast SEO breadcrumbs
* Added: New post meta - Update Date
* Added: New Posts Layout - List
* Added: New home widget - Posts Slider (including 2 slider styles)
* Added: Options to enable/disable entrance animation
* Improved: Progressive image loading and lazy loading features can be enabled/disabled separately
* Fixed: Google AdSense code cannot be converted correctly
* Fixed: Minor CSS Issues
* Updated: Required Plugin Alpaca Extension updated to v1.4

Version 1.3.0 – May 17, 2021

* Added: New home widget - Rolling Text
* Added: New Gutenberg block - Rolling Text
* Added: Reading Speed - calculated by word count or character count
* Added: Related Posts - Image Ratio Option
* Added: Grid Overlay Posts - Overlay Opacity options
* Added: Grid Overlay Posts - Large Title option
* Added: Split Template - Option to enable Large Post Header on mobile devices
* Improved: The effect of the color mode switcher on websites with cache plugins
* Fixed: Minor issues with WPML & Polylang
* Fixed: RTL CSS Issues
* Fixed: Other minor CSS Issues

Version 1.2.0 – May 7, 2021

* Added: New Demos
* Fixed: Minor CSS Issues
* Fixed: Instagram issue when loading Instagram feed by AJAX

Version 1.1.0 – May 4, 2021

* Added: New Demos
* Fixed: Minor CSS Issues

Version 1.0.0 – May 4, 2021

* Initial Public Release.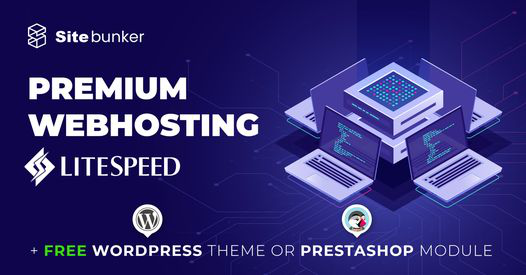 This is an affiliate link. ThemesBuddy may receive a small commission if you sign up to SiteBunker hosting on the terms of this offer.